5 Best Cryptocurrency To Buy for Recovery July 2021 Week 4
What is the best cryptocurrency to buy for recovery this week? With the crypto market still down in the doldrums, it is understandable if investors might shy away from cryptocurrencies like Bitcoin. Many have pointed to the bull run being over and demand for crypto assets has admittedly slowed down. Let's jump right in.
5 Best Cryptocurrency To Buy for Recovery July 2021 Week 4
1. Bitcoin (BTC)
Bitcoin remains the topmost and most popular cryptocurrency available. As expected, it is also one of the best cryptocurrency to buy given its growing adoption globally.
The most significant allure of Bitcoin is the fact that it dominates the market. Where Bitcoin goes, the other assets will follow – especially now that the market is experiencing a pullback. Everyone knows how Bitcoin has performed thus far – after reaching an all-time high above $64,000 in April, it dipped into the high $50,000 range for a month.
When the market downturn hit, Bitcoin immediately plummeted. Several attempts to regain its highs have failed, and the asset bottomed out at $24,761 on May 29.
Entering into this week, Bitcoin is trading at $31,329 – down 0.5 percent in the last 24 hours and down 7 percent in the past week. The asset could still slide below the $30,000 mark, with Grayscale Investments set to release $1.4 billion in Bitcoin over the next week. That event could trigger a selloff that will drag the market down.
Whether the Grayscale event does trigger a selloff or not, Bitcoin is available for a bargain right now. The asset's technicals are also quite strong, with a relative strength index (RSI) of 39.04 and a 20-day moving average (MA) of $33,200.
2. Binance Coin (BNB)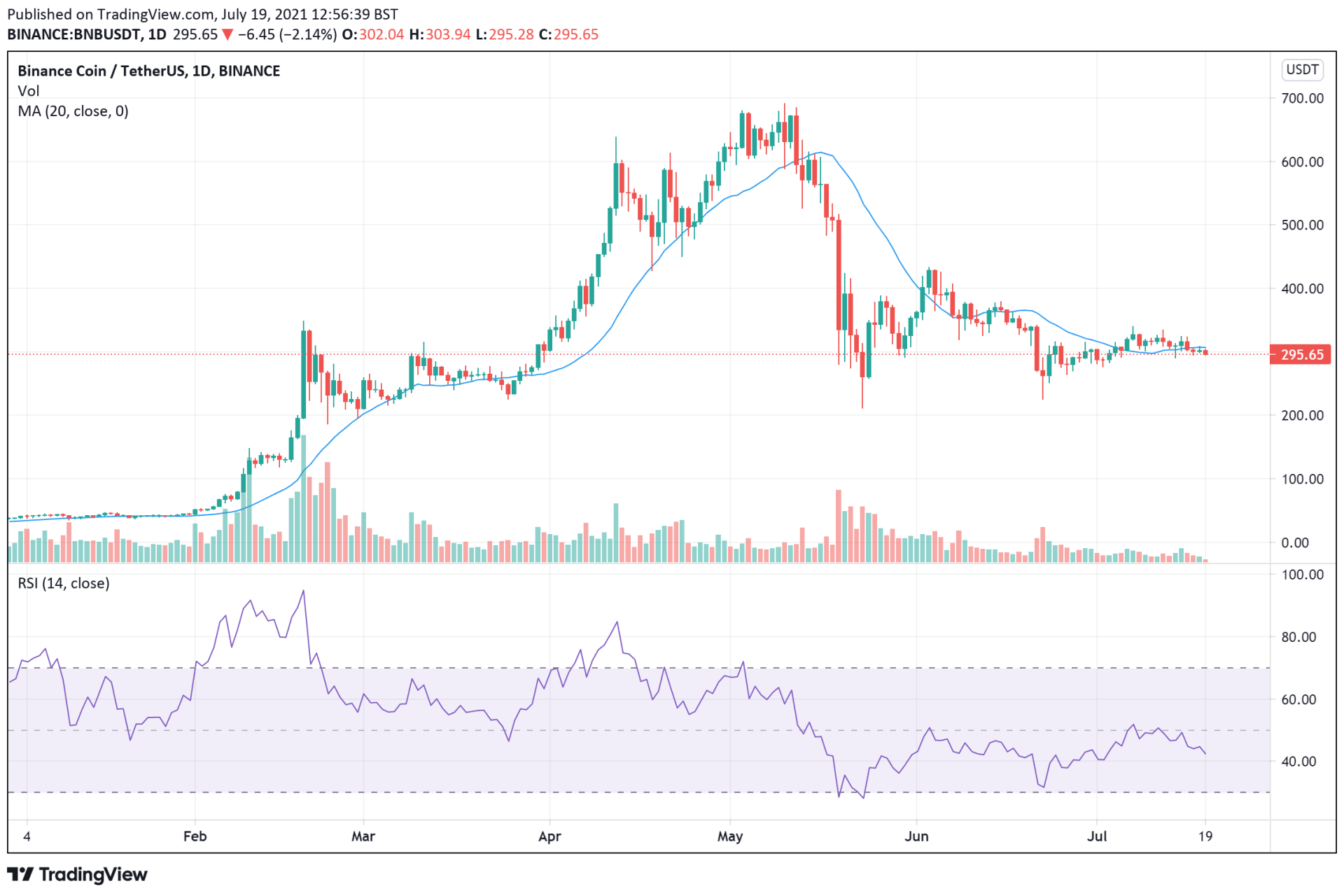 Next on our list of the best cryptocurrency to buy is BNB – the native token for top cryptocurrency exchange Binance.
Like all large-cap cryptos, BNB rose to new highs during the market bull run.
After hitting $691.89 in May, it subsequently fell due to the market downturn. BNB bottomed out at $211, and it has been through several bullish and bearish cycles since hitting $290.
Ever since it dropped in late June, BNB has been unable to cross $350. The asset has hit the $320 range a few times, but bearish forces continue to hold it back.
With a current price peg of $295.65, BNB is trading down 3 percent in the last 24 hours and 8 percent in the last week.
But, like Bitcoin, there's a lot of upsides for the asset. BNB will be one of the assets to make the biggest jumps when the market does eventually bounce back.
BNB's technicals are also pretty good, with an RSI of 42.93 and a 20-day MA of $306.04. BNB's unique position as the fuel for the growing Binance ecosystem is also a good signal making the BEP-20 token one of the best cryptocurrency to buy for a bargain right now.
3. Ether (ETH)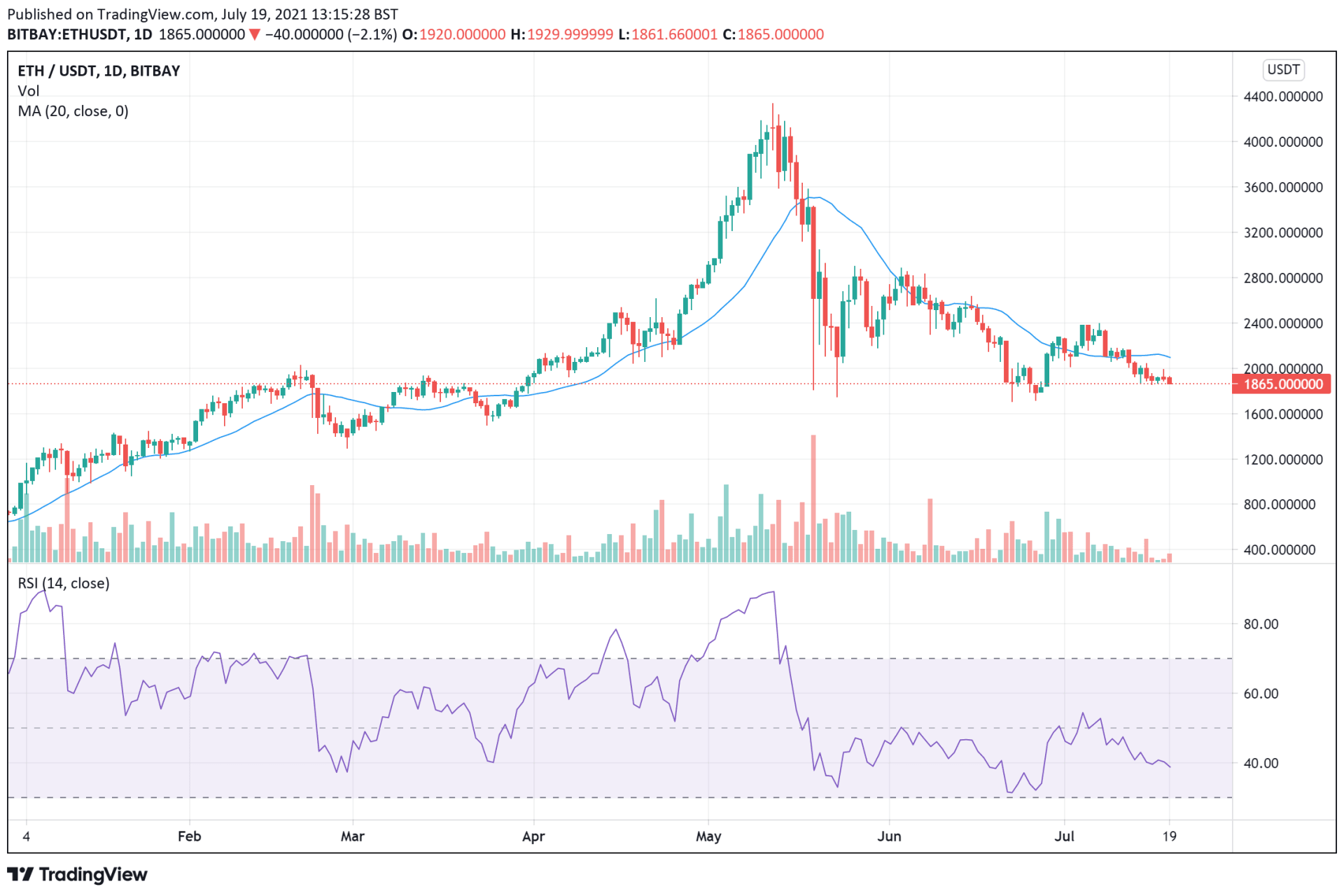 Ether is the second-most valuable cryptocurrency and one of the best cryptocurrency to buy given its significant stake in the emerging DeFi sub-sector. The digital asset's market cap is only surpassed by Bitcoin, although it is growing to have more use cases than even the latter.
The biggest value proposition for Ether is its blockchain. The Ethereum blockchain remains the most popular, as developers frequently use it across the crypto space. Those looking to build decentralized apps (dApps) and decentralized finance (DeFi) protocols tend to choose the Ethereum blockchain. At the same time, non-fungible tokens (NFTs) are usually minted on the blockchain too.
With the Ethereum blockchain still in massive demand, Ether has a great value proposition, and some analysts even believe that it could eventually knock Bitcoin off its perch.
For now, however, Ether is also a great bargain buy. The asset climbed to $4,333 but bottomed out at $1,711 on June 22. Its current price peg of $1,865 is a 9 percent jump from its bottom. Given how much it's jumped, ETH has many gains to recoup – and much for you to gain as well if you get in now.
ETH has an RSI of 39.69, and a price spike could easily see it cross its 20-day MA of $2097.12. It's another long-term asset that could gain a lot when the bear market blows over.
3. Bitcoin Cash (BCH)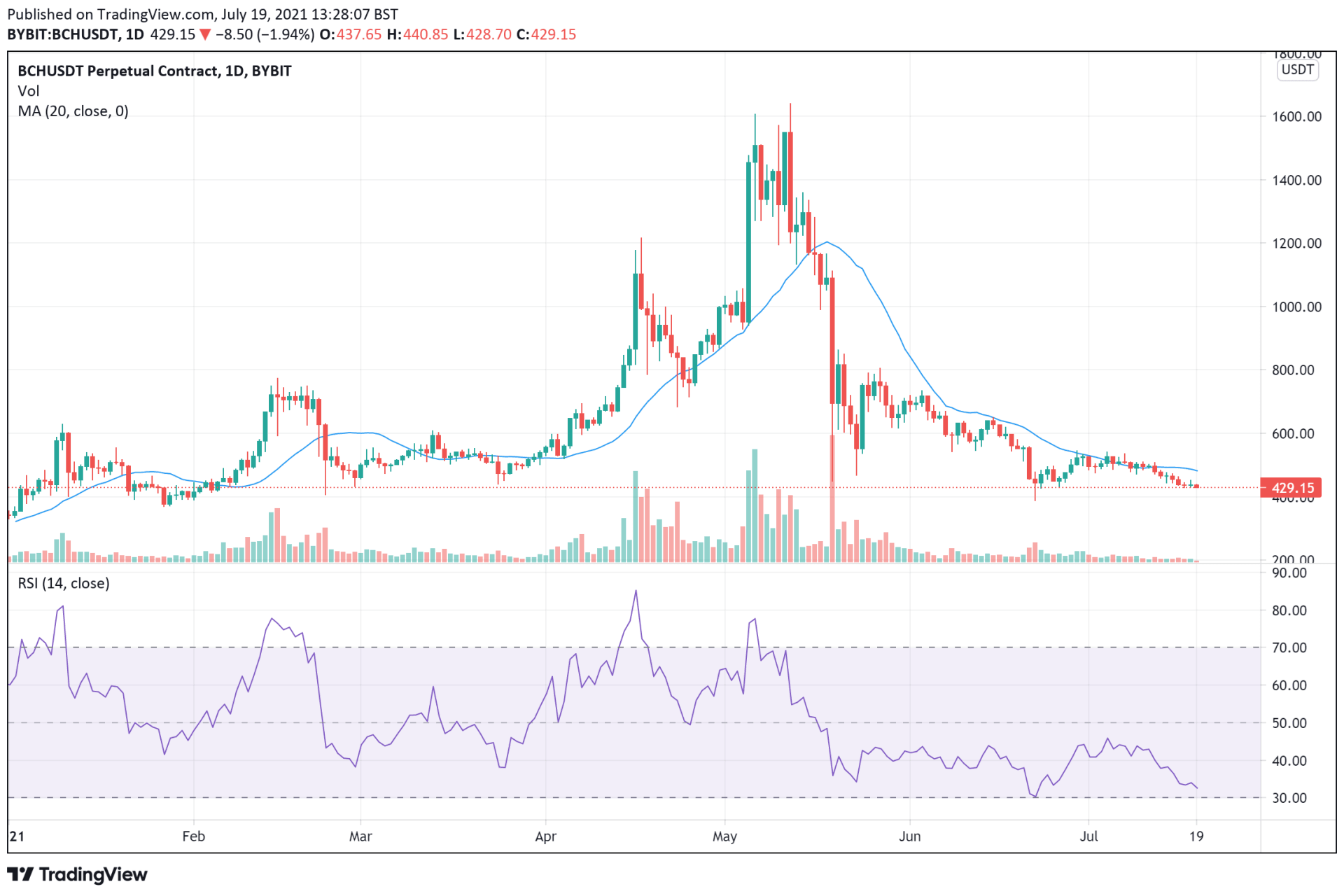 Bitcoin Cash is perhaps the most popular and valuable asset to fork out of the original Bitcoin. The asset has had two successive price drops, the first being the downturn that happened in May. That price slump dragged BCH from $1,644 to $471.05 in a matter of 10 days.
While the asset tried to climb back, the second wave hit, knocking it from $808.10 to a bottom of $389.85 on June 22. Since then, BCH's highest point has been $544.85.
BCH is currently trading at $429.15 – down 3.3 percent in the last 24 hours and 12 percent in the past week. With so much distance from its high, it is expected to see big gains as soon as the market picks up again.
With an RSI of 32.41, BCH is severely underbought. It will need a bit of a push to get to its 20-day MA of $475.45, but that point isn't so far off. However, its continued affiliation with the Bitcoin name could keep it in investors' sight for some time to come. This makes it one of the best cryptocurrency to buy for a potential bull run.
4. Litecoin (LTC)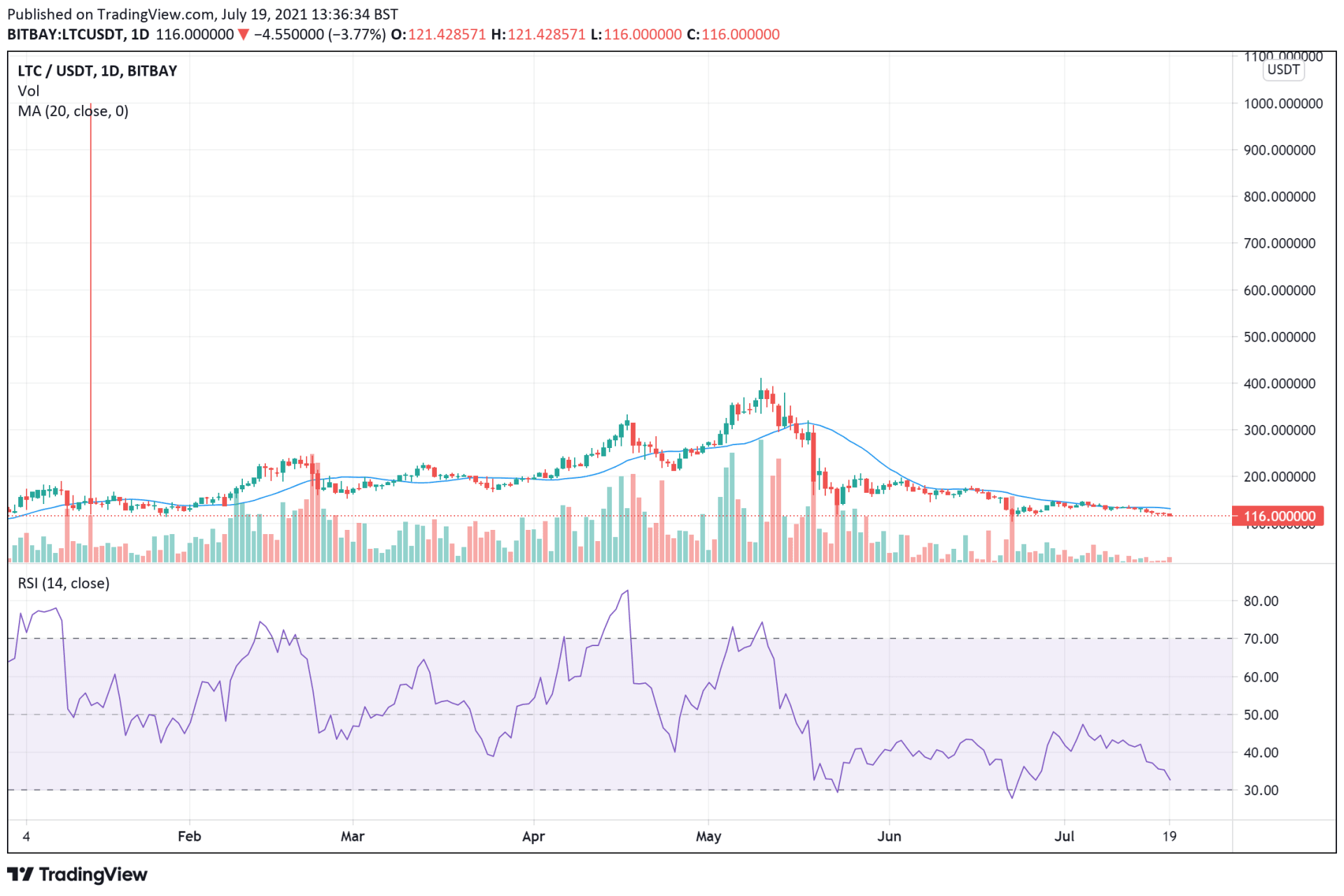 Once the third most valuable cryptocurrency, Litecoin has given way to the rise of assets like BNB. However, this isn't to say that it doesn't have any value. Litecoin has been nicknamed the silver to Bitcoin and it has continued to stay in the top 20 ranks making it one of the best cryptocurrency to buy.
Litecoin had an impressive performance during the bull run, jumping from $126.8 at the beginning of the year to hit a high of $412.3. But, all of that has been erased as the asset has seen successive lows, and its value has plummeted entirely.
LTC is currently trading at $116, which is down 6.3 percent in the past day and 19 percent over the past week. Bears are now defending the asset's downtrend, and there are fears that the asset could slide even further.
But, drops are where the most opportunistic investors can get in and capitalize on gains. With the asset sporting a 33.44 RSI, it could gather enough interest and buy-ins to break the 20-day MA of $127.4 eventually.
Capital at risk